FRESNO – (May 22, 2017) – AmeriPride Services Inc., a leading textile rental services and supply company in North America, today announced its Fresno branch is one of the first uniform and linen facilities to earn TRSA's 'Hygienically Clean Food Safety' designation. This voluntary industry certification provides third-party verification that products cleaned in the plant meet hygiene standards appropriate for food service companies.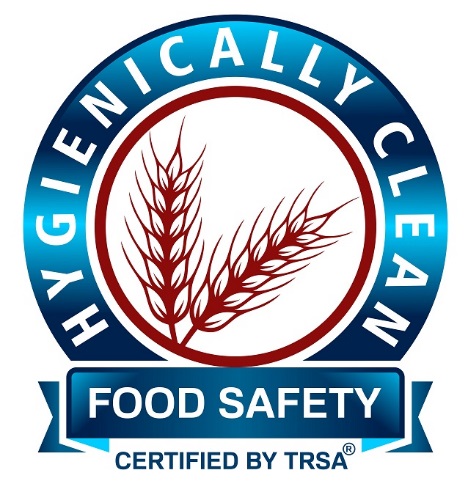 "This achievement shows our ongoing commitment to our food service customers by demonstrating that our production facility meets all industry guidelines for processing garments and other textiles," said Steve Plescia, General Manager of the Fresno branch. "We want our customers to have confidence that our facilities meet and exceed their expectations and adhere to industry standards for hygiene and safety."
Requirements for certification include on-site inspections and ongoing microbial testing to confirm zero presence of harmful bacteria. Certification verifies textiles cleaned in these facilities meet established industry standards for animal processing, dairies, fruit and vegetable, bakeries, grain and other food and beverage industry segments.
Independent, third-party inspections also confirm employees are properly trained and protected, managers understand legal requirements and the facility is OSHA-compliant. To maintain their certification, a processing plant must pass quarterly testing to ensure product quality is consistently maintained.
Hazard Analysis and Critical Control Points (HACCP) practices are also examined in the Hygienically Clean Food Safety inspection process, as well as adherence to U.S. Food and Drug Administration (FDA) and Centers for Disease Control and Prevention (CDC) directives.
"Congratulations to AmeriPride and their Fresno management team on the attainment of this industry milestone," said Joseph Ricci, TRSA president and CEO. "Their customers can rest assured that AmeriPride goes to exceptional lengths to prevent human illness and ensure the cleanliness of its products."
The Fresno branch was the first AmeriPride facility and one of the first commercial laundries to earn this certification nationwide. AmeriPride is also the largest company to earn Clean Green certification, which ensures products at all of its facilities are processed in an environmentally friendly manner.
About AmeriPride
Headquartered in Minnetonka, Minn., AmeriPride Services is recognized as one of the largest textile rental and supply companies in North America. Operating more than 115 production facilities and service centers throughout the United States and Canada, the company provides linen and towels, uniforms, floor mats, restroom and cleaning products to nearly 150,000 customers through rental and purchase programs. As a true business partner, AmeriPride helps customers improve their image while keeping facilities clean and employees safe. Innovation, personalized service and a dedication to company values has sustained the private, family-owned company for more than 125 years. Demonstrated commitment to customers, the community, employees and the environment has made AmeriPride the People You Can Count On. Additional company information can be found at www.ameripride.com.
About Hygienically Clean Certification
Hygienically Clean certification is the fastest growing and most recognized international standard for processing linens and garments. The certification demonstrates linen, uniform and facility services companies' commitment to cleanliness through independent, third-party laundry plant inspection and quantified microbial testing. Inspection and re-inspection verify that items are maintained, washed, dried, ironed, packed, transported and delivered using best management practices to meet key disinfection criteria. Between scheduled and supplemental inspections, ongoing microbial testing quantifies cleanliness and indicates laundry process adjustments. This combination of process and outcome measures ensures textiles cleaned in certified facilities meet standards appropriate for businesses that use them, with Hygienically Clean certifications for Food Safety, Food Service, Healthcare and Hospitality. Visit www.hygienicallyclean.org for more information.