DYNAMIC DUO
JEREMY SANDERS and ALEX SEWELL, CUSTOMER OPERATIONS MANAGERS, MINNEAPOLIS BRANCH
It's not every day you hear of colleagues who have worked alongside each other for 20+ years, let alone at the same company. Jeremy Sanders and Alex Sewell have grown on the job together at AmeriPride since the mid 1990s, both starting on the back dock – Jeremy as a preloader and Alex as an unloader.
As Customer Operations Managers (COMs) at the Minneapolis branch, Jeremy handles the industrial routes while Alex tackles the hospitality and medical routes. They admit that their skill sets and strengths complement each other. One can finish the other's sentences and yet they have never had a photo taken together (we fixed that).
Find out how Jeremy and Alex have taken service to the next level and how they've built their careers at AmeriPride.
What do your AmeriPride career paths look like?
Jeremy Sanders (JS): While I was in high school, I started at our offsite warehouse where our direct sales paper was. In March of 1996, I started preloading trucks at night. After a couple years of preloading, I moved to a relief Customer Service Representative (CSR) role and then into an Install Coordinator position with the Sales team for a short period of time. I was then in a team leader role. I even worked with our clean room business for a couple years. I'm now the Industrial Customer Operations Manager (COM) and have been doing this for the last six years.
Alex Sewell (AS): I went to college in Iowa and ended up moving to Minneapolis with my wife who is originally from Northeast Minneapolis. As I was looking for a job, my father-in-law said, 'You should go to American Linen. I knew a couple people who drove trucks and said it was a great job.' So I interviewed. All they had was the 3:00 am to 11:00 am shift unloading trucks. My wife was a nurse working the second shift so it worked out perfectly! I unloaded trucks for nine months and got to know a few people who had moved up through the company. I thought, 'There's got to be more to this company. I want to do more.' I interviewed for other positions and was told 'no' a couple times. I learned 'no' didn't mean 'no' it just meant 'not now.' I kept trying and after nine months they gave me a shot as a CSR.
Talk about the importance mentorships played in your careers.
AS: After five years of being a CSR, I thought again, 'There's got to be more.' Frank Sanders [Jeremy's Dad] was my mentor at the time and helped me figure out what I needed to do. There was a Customer Service Manager (CSM) who was retiring so I applied and got that role. I did that for four years. I told Frank, 'When you retire I'm going to be your replacement.' So he taught me everything about being a service manager.
JS: So Alex got to learn from my Dad when he was trying to move from a production team into service. My Dad was in charge of the service department. My history is that my Grandpa worked as a production manager at a competitor. And when my Dad was done with his professional hockey career, my Grandpa said 'This is a crazy industry, but you're never going to be without work.' Instead of working at the competitor with my Grandpa, my Dad found a job at American Linen in Minneapolis. He's been my mentor for life. Being in the service department, he groomed both Alex and me as we moved up. And then as he was nearing retirement, he said, 'I can't believe you two are my bosses!'
Do you ever have a typical day?
JS: The easy button answer to that is 'no.'
AS: You can have your alarm set, and your day planned, but it can start at 5:00 am with a CSR who is sick. At 5:30 am, especially when it's cold, someone could be calling with truck issues. The day officially starts at 5:30 am and we request everyone to be back by 6:00 pm. But the phone could ring from 6:00 pm to 7:00 pm with paperwork questions. With this role, you're involved in everything from the back dock to the front door.
JS: What it comes down to is that our job is to help make this place operate and have the customers taken care of with the resources we have available to us. A large customer could call and be frustrated and that would change our day completely. Or if they need a favor, then we're going to provide that superior service and boom, the day is changed.
What are some of the advancements you've seen during your tenures?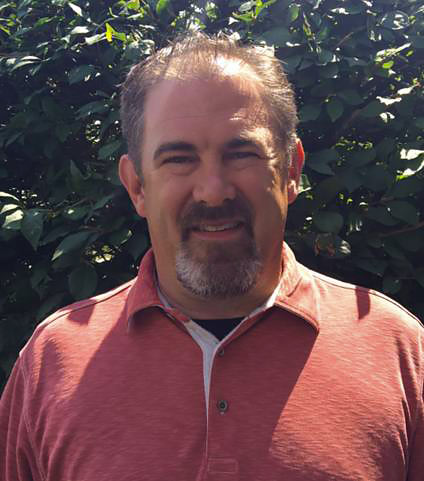 AS: The new high efficiency irons, new conveyor belts. It's encouraging to see the family reinvesting in the company. There's been C3 Mobile, tablets and new eco-friendly trucks. And the new handhelds scheduled to come out soon are exciting.
JS: When it comes down to it, we process laundry and service customers. So how do you take that and diversify and become dynamic? You try to make that experience even better for customers. I think the biggest thing that I saw was probably in the mid 2000s when the single-source provider push started. We were doing a good job, and we had our core niche. And we started expanding a bit more and challenging ourselves. Now we're in those next stages. Technology-wise we're superior to our competitors with C3 Mobile and automated processes in the Customer Portal. With all those advances, now customers don't just view us as delivery linen people or laundry people. Now we're a service company. When we started there were trucks, products and people needed to service customers, and to this day, it's still trucks, products and people servicing customers. There have been a lot of changes, but at the core, we are here to service customers.
Expand a bit on service. How is AmeriPride winning with service?
AS: I've been with one company for 21 years for a reason. It's the people and the culture. Service is our bread and butter. If somebody needs something, we go back to the tagline, we're the People You Can Count On. We're going to find a way to get it done.
JS: We have some competitors who try to match our service, but they can't do it. They aren't able to provide the service mentality. For example, when a customer calls in, even when they're upset, by the end of that call, the goal is that they appreciate the outcome. They might not agree with it but we're willing to work with them. People You Can Count On isn't just a tagline, it's actually what the owners expect of us and we take that literally.
Now as COMs how do you see your roles as mentors for others?
JS: For me it was a little different because I was one of the youngest managers hired, and I was proving myself. But now I get to be one of the older guys. I enjoy mentoring some of the older guys too. There's a gentleman working on specialty projects through our clean room, and it's fun mentoring and teaching him the ins and outs of procurement and sales.
AS: You have to ask your team about their plans and interests. Jeremy and I lead, train, motivate and point them in the direction they want to go. I enjoy mentoring. Even in 21 years, I like to think I'm still learning as well.
JS: It's one thing you don't have training for. You have to see the people, find the skills they may not even feel they have or know they have, and put them in positions where they can excel. There's no instruction book for that. It's trial and error.
What are you up to when you aren't at work?
AS: I'm spending time with my family and going to my daughter's and son's sporting events. They both play lacrosse year round. My daughter is a senior this year so we're trying to decide on college. The campus tours have been exciting. I'm a sports fanatic! I love Iowa Hawkeyes football.
JS: I'll start by saying that my wife is a saint! We have five boys, ranging in age from 1 to 13. Four out of the five play hockey. The one-year-old unfortunately ends up being the goalie for knee hockey. I'm a coach for the three hockey teams my sons play on so I'm pretty much at the rink every day after work. With my leftover free time, I'm a youth pastor. I love working with young people. Love my family and boys – they are the center of my world.
---
PEOPLE YOU CAN COUNT ON®
Learn how we make your life easier with brand-building solutions to keep your employees and facilities looking their best.